A PC Browser game based around the "Tsuki ga Michibiku Isekai Douchuu" manga.
Game Info
Developer & Publisher: AlphaPolis Co.,Ltd.
Genre: TRPG
Platform: Browser
Language: Japanese
Date: 2017
Link: http://tsukimichi-game.alphapolis.co.jp/ <---address changed or the game has taken down
Description
AlphaPolis announced the release of the official Tsuki ga Michibiku Isekai Douchuu PC browser game which will be based on the popular novel and manga
the manga released in 2015 June and until now more than 400 000 copies sold just in Japan.
The PC game will be available from 2017 Spring according to AlphaPolis and it will be a TRPG At the moment not so much information is known about the game
Mechanics
Gameplay
Characters
In-game Images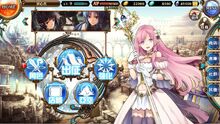 Promotion Video