Mini Tomoe was an unnamed fragment of "Tomoe" created in order to help supervise and collect information regarding the alternate space "Asora". She is the first known fragment created by Tomoe, and was predecessor to Komoe.
Appearance
Mini Tomoe is a short 'chibi' version of Tomoe who barely reaches the height of Misumi Makoto's waist.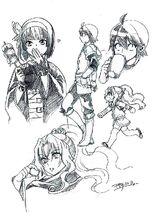 Personality
Unlike her original, Mini Tomoe's personability is more like a child, excitable and yet she is respectful of her master Misumi Makoto. She would gleefully wake up Makoto each morning when he is in Asora.
Biography